THE TEÓFILO HERNANDO FOUNDATION (FTH)
OUR TEAM
The FTH is a non-profit organization that was founded in 1996. It received this name to honor the memory of Professor Teófilo Hernando who, at the beginning of the 20th century, introduced pharmacology in its scientific and teaching facets in Spanish universities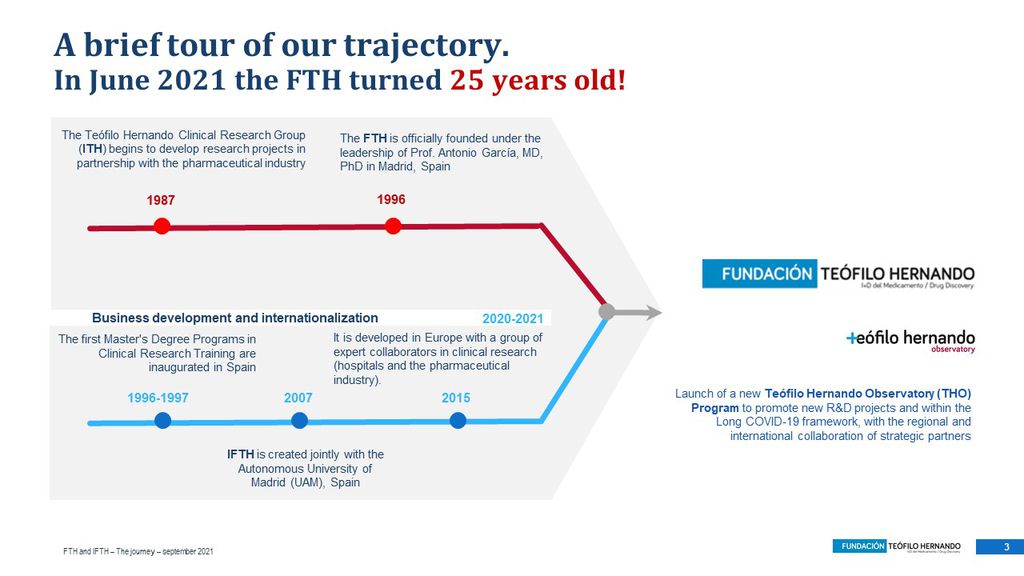 Since its inception, the activities carried out by our Foundation around medicine discovery are broad and structured in three interconnected areas: Research, Training and Humanism.

All these activities are financed with our own resources that we obtain through the execution of R&D projects and activities in collaboration with the pharmaceutical industry. Mainly clinical trials, collaborating with them as CRO (Contract Research Organization) and with our own training plans or in collaboration with other universities and institutions from the public and private sectors.

We are a different CRO and a training program with a unique vision. The benefits that we obtain through applied research projects and with our training are reverted to basic research, continuing medical education activities, humanistic actions and bringing science closer to society.

In addition, we strongly believe in public-private investigation. We think that we can help to generate a collaborative environment in carrying out research projects, achieving a more innovative university and hospitals in terms of R&D Clinical Trials and a greater development of science in Spain.
ORGANIZATION CHART